Profile
CHEN Di

(チェン ディー)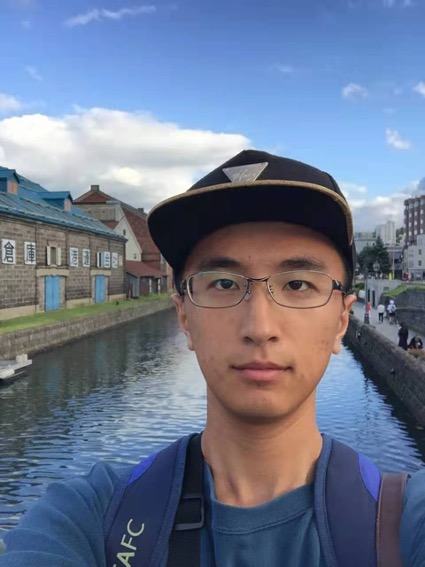 東京大学生産技術研究所
特任研究員

居室: 駒場キャンパス 生産技術研究所 De棟201号室
電話&FAX: 03-5452-6171 (内線: 56171)
E-mail: chendi [at] iis.u-tokyo.ac.jp
English page is here
経歴
2009年 9月-2013年 6月

BS, Theoretical and Applied Mechanics, Lanzhou University, <China>

2013年 9月-2021年 4月

Ph.D, Naval Architecture and Ocean Engineering, Shanghai Jiao Tong University, <China>

2016年 4月- 2019年3月

Ph.D, Mechanical Engineering, Chiba University, <Japan>
研究テーマ
Optimal structure of heat transfer, plasma-assisted flow control, low-Reynolds-number aerodynamics, insect flight, bio-inspired rotary machinery
学術論文(英文)
Chen, D., Asada, K., Sekimoto, S., Fujii, K., & Nishida, H.
"A high-fidelity body-force modeling approach for plasma-based flow control simulations."
Physics of Fluids, 33(3), 037115. (2021)
Chen, D., Kolomenskiy, D., Onishi, R., & Liu, H.
"Versatile reduced-order model of leading-edge vortices on rotary wings."
Physical Review Fluids, 3(11), 114703. (IF = 2.442) (2018)
Chen, D., Kolomenskiy, D., & Liu, H.
"Closed-form solution for the edge vortex of a revolving plate."
Journal of Fluid Mechanics, 821, 200-218. (IF = 2.821) (2017)
Chen, D., Kolomenskiy, D., Nakata, T., & Liu, H.
"Forewings match the formation of leading-edge vortices and dominate aerodynamic force production in revolving insect wings."
Bioinspiration & biomimetics, 13(1), 016009. (IF = 2.939) (2017)
Ogawa, T., Shimomura, S., Asada, K., Sekimoto, S., Chen, D., Tatsukawa, T., Nishida, H., Fujii, K.
"Feed-back Control of Separated Flow over an NACA0015 with DBD Plasma Actuator."
AIAA journal (under review) (2020)
Wang, H., Li, Y., Pröbsting, S., Zheng, X., Hu, Q., Chen, D., ... & Wu, X.
"Aerodynamics of the Wells turbine with a Hawkmoth-inspired blade design."
Bioinspiration & Biomimetics, 15(6), 066001. (2020)
Noda, R., Nakata, T., Ikeda, T., Chen, D., Yoshinaga, Y., Ishibashi, K., ... & Liu, H.
"Development of Bio-Inspired Low-Noise Propeller for a Drone."
Journal of Robotics and Mechatronics, 30(3), 337-343. (2018)
GUO, X., CHEN, D. and LIU, H.
"Does a revolving wing stall at low Reynolds numbers?"
Journal of Biomechanical Science and Engineering, 10(4), pp.15-00588-15-00588. (2015)
講演論文(国際会議)
Chen, D., Kolomenskiy, D., & Liu, H.
"Estimate strength and trajectory of leading-edge vortex: a universal analytical model,"
71st Annual Meeting of the APS Division of Fluid Dynamics,
Atlanta, GA, U.S., Nov. 2018.
Chen, D., Kolomenskiy, D., & Liu, H.
"A Universal Estimate of the Leading-Edge Vortex of a Rotary Wing"
7th International Symposium on Aero-aqua Bio-Mechanisms (ISABMEC2018),
Senju, Tokyo, JAPAN, Aug. 2018

Chen, D., Kolomenskiy, D., & Liu, H.
"Forewings hold the entire leading-edge vortices and maintain aerodynamic force production with hindwings removed in revolving insect wings"
SEB Florence 2018,
Florence, Italy, Jul. 2018.
Liu, H., Nakata, T., Noda, R., Chen, D., Ueyama, K., Akiyama, K., Kolomenskiy, D.
"Robustness strategies in bio-inspired flight systems: morphology, dynamics, and flight control" (Invited Paper)
Bioinspiration, Biomimetics, and Bioreplication VIII (SPIE Conference 10593),
Denver, Colorado, United States, Mar. 2018

KOLOMENSKIY, D., CHEN, D. and LIU, H
"Line-vortex models of the leading-edge vortices of revolving and flapping wings"
IUTAM symposium on Dynamics and Topology of Vorticity and Vortices,
Carry-le-Rouet, Marseille, France, Jun. 2017.